Bill
Forty Years In The Fashion Business.
(34-32-50). My name is Bill Johnston. I have been in the fashion industry for over forty years, having worked for some of the most iconic British fashion brands, including Jean Muir, Jaeger, Alexander McQueen, All Saints, Vivienne Westwood, and Alexon.
I created The London Pattern Cutter in 1984, to provide pattern cutting, grading, and sampling services to the fashion industry, as well as mentoring and advice to small businesses and startups.
Today The London Pattern Cutter is a small team of highly skilled, experienced freelancers and small businesses. Each member of the team offers a particular range of services in their specialist areas.
My Job Today.
While I still enjoy the occasional hands-on pattern cutting and grading work, my main job these days is to offer advice and mentoring to clients, to run the website, and to direct clients to the most appropriate associate for their needs.
Early Career.
My first full time job was in 1976, at Jaeger Tailoring . This provided me with an excellent grounding in pattern cutting for mens and ladies tailoring. It also taught me the supreme importance of fit, balance, accuracy and care for detail.
I went on to work for a variety of top U.K. fashion companies as a pattern cutter, grader, sample machinist, garment tech and QC.
Freelance Pattern Cutter.
My learning only really began once I became a freelance pattern cutter in 1984. As a freelancer you really do need to know everything there is to know about running a fashion business.
Your clients rely on your knowledge and experience to guide them through the process. By necessity I had to become skilled in every aspect of the clothing industry.
In menswear, ladieswear, and childrenswear. Tailoring, sportswear, swimwear, underwear, lingerie, denim, leather, corporate wear.
As a freelance pattern cutter, not only did I have to be skilled in all areas of pattern cutting, but I also had to be able to cut and grade every type of garment, make samples, do costings, complete garment spec sheets, source fabrics, trims and factories, control production quality, and manage entire projects.
Menswear Pattern Cutter.
I had a love for all types of menswear, especially tailoring, sportswear and underwear. Any type of functional menswear really. I love the functionality and logic of menswear.
I even participate in some menswear forums that go into great detail about the minutiae of styling and vintage garments. This is a mans thing that is verging on autistic in nature.
Men have a very different view of fashion and clothing than do women. Generally for us, detail is important, whether for formal wear, sportswear, or casual wear.
I became known first and foremost as a Menswear Pattern Cutter, and have taught menswear pattern cutting at the world famous Central St. Martins College in London.
Sportswear.
I have always been a keen sportsman, very interested in all aspects of fitness and ergonomics. I am a fully qualified fitness instructor, specialising in circuit training and indoor cycling.
I developed a keen interest in all types of activewear and functional garments. My early tailoring background mixed with my knowledge of ergonomics has helped me a great deal in being able to develop specialist garments for many different sports.
Those sports include : Swimwear; Football; Rugby; Boxing; Rowing; Cycling; Weight lifting; Horse racing; Yoga; Fitness; etc.
Ergonomics.
Understanding ergonomics are very important for any pattern cutter. Any garment needs to fit well, and to function comfortably. This is even more important when making functional garments, workwear, or sportswear.
Launch Pad For Startups.
Over the years, i have worked for hundreds of top fashion designers, high street clothing companies and new fashion startups.
While I enjoy the immense variety of work involved, maybe the most rewarding part of the job is working with the small startups.
The whole process of bringing a design to market can be a minefield of potential problems. Each one of these problems can prove disastrous to a new business without professional guidance from someone like myself.
Design Through To Production.
I have worked as a Pattern Cutter, Grader, Garment Technician, Sample Machinist, Bespoke Tailor, Project Manager and Clothing business Consultant, so I understand every process involved from the design to the final production and beyond.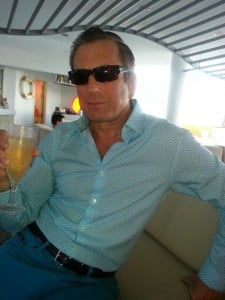 While I spent the first part of my career as a ladieswear Pattern Cutter, and while I am still very skilled in womenswear, in recent years I have become more interested in menswear.
And all the various niche areas of menswear such as tailoring, sportswear, denim, underwear, uniforms, shirts, workwear, vintage, leather, etc.
As I have an extremely strong foundation of pattern cutting skills and knowledge, each of these specialist areas are relatively easy to pick up.
The beauty of working as a freelance Pattern Cutter is that you get to work on an immense variety of projects.
There are very few people in the clothing industry with my comprehensive range of skills – In all aspects of Menswear, Ladieswear and Childrenswear.
While I still do many of the menswear patterns, I also work alongside other specialist Pattern Cutters who will do some of the ladies or childrens patterns.
Corporate Uniforms.
I have worked on a number of corporate uniform projects for luxury hotels, restaurants, and airlines.
Corporate uniform projects have included :
VIRGIN ATLANTIC – THE SAVOY HOTEL – QUAGLINOS
EMAIL thelondonpatterncutter@gmail.com