Mens underwear purchasing has long been thought to be a barometer for wider economic performance throughout the economy as a whole. When the bottom falls out of the underwear market, then you can bet the economy is going to follow not far behind. The Mens Underwear Index (MUI) was used by Alan Greenspan in the 1970`s to forecast future economic developments.
PHONE – 07905-965-305
EMAIL –  thelondonpatterncutter@gmail.com
In recent years there has been a massive  increased demand for mens underwear and consequently an increased demand for the pattern making, sampling and production. Sportswear and underwear are closely related products and many sportswear items are now worn as underwear.  While my background has been mainly in tailoring and outerwear patterns, I find that underwear, along with sportswear and swimwear, is an interesting area of pattern cutting to explore .
Mens underwear styles comprise a relatively narrow range of styles, although this is changing as mens underwear becomes more of a fashion item. Styles include :-
Briefs
Low rise briefs
High rise briefs
Boxers
Boxer briefs
Y Fronts
Trunks
Jockstraps
Longs
G Strings
Vests
Singlets
 There are in fact many variations that can be designed. Boxers may have an encased waistband with a fly opening, or a sewn on elastic waistband without a fly.They can be in a stretch fabric or a rigid one. Modern briefs generally have a contour pouch with or without a centre front seam. Or they may have a traditional crossover fly. There are a few recognised brands such as Calvin Klein, Jockey and Sloggi that have a large part of the market, so there is a lot of room for small startup brands to establish their own line.
It is often in  these niche markets like underwear rather than in general fashion  where the greatest potential for success lies within the clothing industry. There is far less competition and the amount of money required to bring to market a mens Boxer brief is considerably less than for a shirt or a jacket for example. Because the garments are relatively compact they are cheap to make , store and transport. The potential for problems are also lowered as long as you are using specialist people to produce the patterns and the garments. Most underwear factories will only produce underwear, in contrast to most normal garment factories that will produce a wide range of types of garments. It is not advisable to have a normal clothing factory make mens underwear as special machinery is required, notably flatstitch and coverstitch machinery. While I do not normally advise Clients to use offshore production, this is one area that could be an exception, although I would still normally advise using U.K. production initially.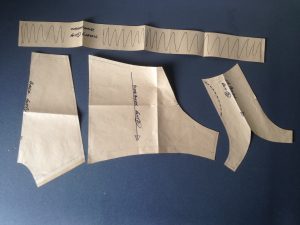 If you are interested in starting your own line in mens underwear, or if you are already established, I would suggest looking round at the existing styles and in magazines. Get together a few ideas and if necessary purchase some garments that you like. These can be used as a basis to make your own styles. Although it may be regarded as "cheating" it does help to prevent trial and error. Make some rough sketches of what you want along with any necessary information, then give me a ring and I will try to help produce your garment.
PHONE – 07905-965-305
EMAIL –  thelondonpatterncutter@gmail.com